This is a Sponsored post written by me on behalf of Piccadilly Restaurants for SocialSpark. All opinions are 100% mine.
Did you know Piccadilly Restaurants has a  Homestyle Veggie Plate that includes three sides plus freshly baked bread, all for $5.49? Yes they do and it is delicious.
I remember my first time having Piccadilly Cafeteria. I was on a spring break trip to Florida. I remember the warm feeling of Southern comfort from the food, the atmosphere and the people. Years later, my mom relocated to Atlanta. I got to enjoy Piccadilly when I visited and my mom found ways to incorporate the flavors and dishes of Piccadilly into her Caribbean style cooking. Now I get to enjoy Piccadilly's Cafeteria whenever I want because it is right in my backyard.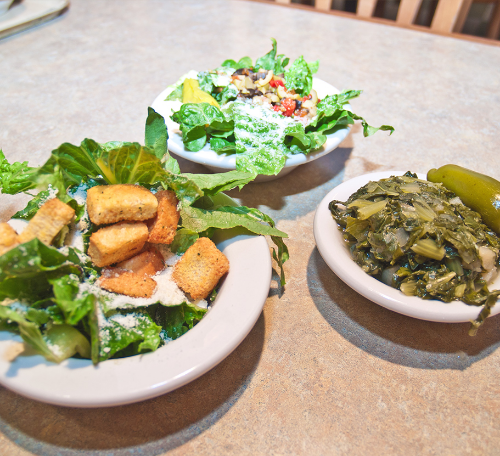 I was excited to take a walk down memory lane at Piccadilly's. The feelings of Southern comfort came right back to me when I entered the cafeteria. I was looking for light lunch options and the Homestyle Veggie Plate was exactly what I needed. I chose the smothered okra, carrot soufflé, and turnip greens with fresh baked bread. This was a great way to taste the Piccadilly savory sides menu. Everything was so good and filling do I decided to make the veggie plate my entire meal.  The turnip greens are simmered with bacon so I did get to enjoy just a hint of meat.
Piccadilly has been serving up tasty Southern dishes since the 1930's. It doesn't get any better than traditional Southern foods and with their history; Piccadilly is a top choice on my list. Piccadilly Cafeteria first opened in 1932 in Baton Rouge, Louisiana. Twelve years later, a budding restaurateur by the name of T. H. Hamilton took the reins with hopes of growing the business. Today, there are approximately 60 restaurants and 80 food service locations all across the southeast. For more information please visit Piccadilly Restaurants, Facebook.com/piccadillymeals and @EatPiccadilly on Twitter.
What are some of your favorite sides you would enjoy at Piccadilly? Would you eat them alone or pair them with a meat option?